IB DIPLOMA PROGRAMME
The IBDP comprises six subject groups and additional requirements known as the core elements; the latter distinguish the IBDP from all other educational programmes. Within each of the six subject groups, SIS offers a few course options to cater for students' interests and needs.  
IBDP Subject Groups
For each subject group, the courses and/or combination of courses offered are listed below. The school determines the courses offered and combinations allowed for any given cohort. Students can consult the IBDP coordinator and guidance teachers on course selection.
* Subject to minimum class size. 
* Subjects offered might differ. Please contact the SIS Admissions Office for more info.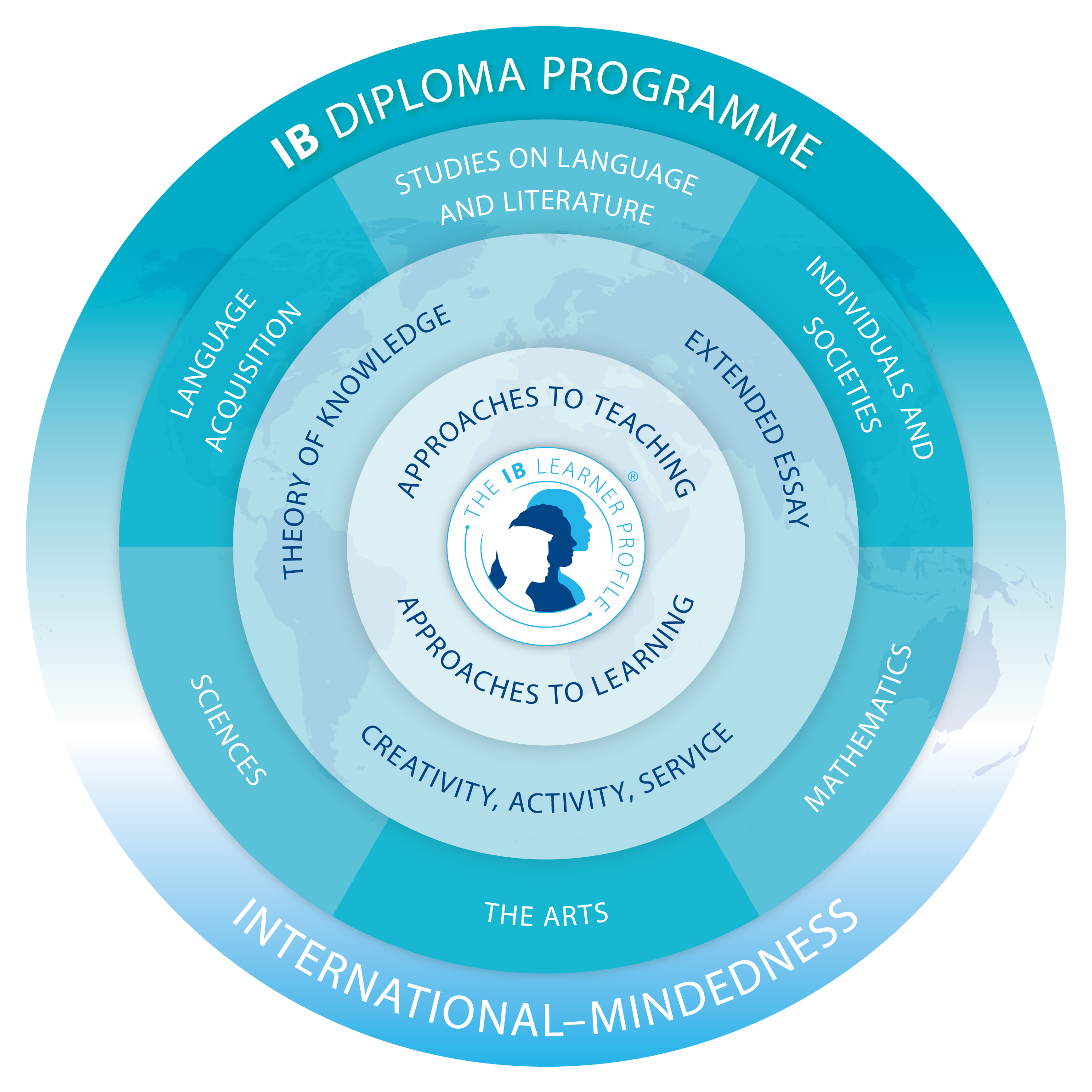 IBDP Core Elements
Theory of Knowledge (TOK)
TOK is central to the philosophy of the IB Diploma Programme. It offers students the opportunity to reflect critically on diverse ways of knowing and to consider the role of knowledge in their culture and the culture of others. TOK encourages critical thinking, stimulates discussion, and is designed to immerse students into the study of oneself and the world around us. 
Extended Essay (EE)
Universities attach great importance to the Extended Essay because it provides practical preparation for undergraduate research and academic writing that are required in higher education. Each student selects and investigates a topic of special interest and then writes a 4000 words essay. Emphasis is placed on the research process, personal engagement in the exploration of the topic, and the development and communication of ideas.
Creativity, Activity, Service (CAS)
CAS is designed to complement the academic rigours of the IBDP, and universities attach great importance to students' participation in CAS. In CAS, students are required to demonstrate continuous engagement in extra-curricular activities with even balance between creative pursuits, athletics, and community service.
IB CAREER-RELATED PROGARAMME
The IB Career-related Programme (IBCP) is a three-part educational framework. It consists of: 
Students complete at least two DP courses in any of the subject groups:
•    Group 1: Studies in Language & Literature
•    Group 2: Language Acquisition
•    Group 3: Individuals and Societies
•    Group 4: Sciences
•    Group 5: Mathematics
•    Group 6: The Arts 
CP students should choose DP courses that are relevant to their career-related studies. DP courses provide and enhance the theoretical underpinnings and academic rigour of the CP. 
 
•    (CP1) OTHM Level 3 Diploma in Business Management
•    (CP2) OTHM Level 2 Diploma in Business Studies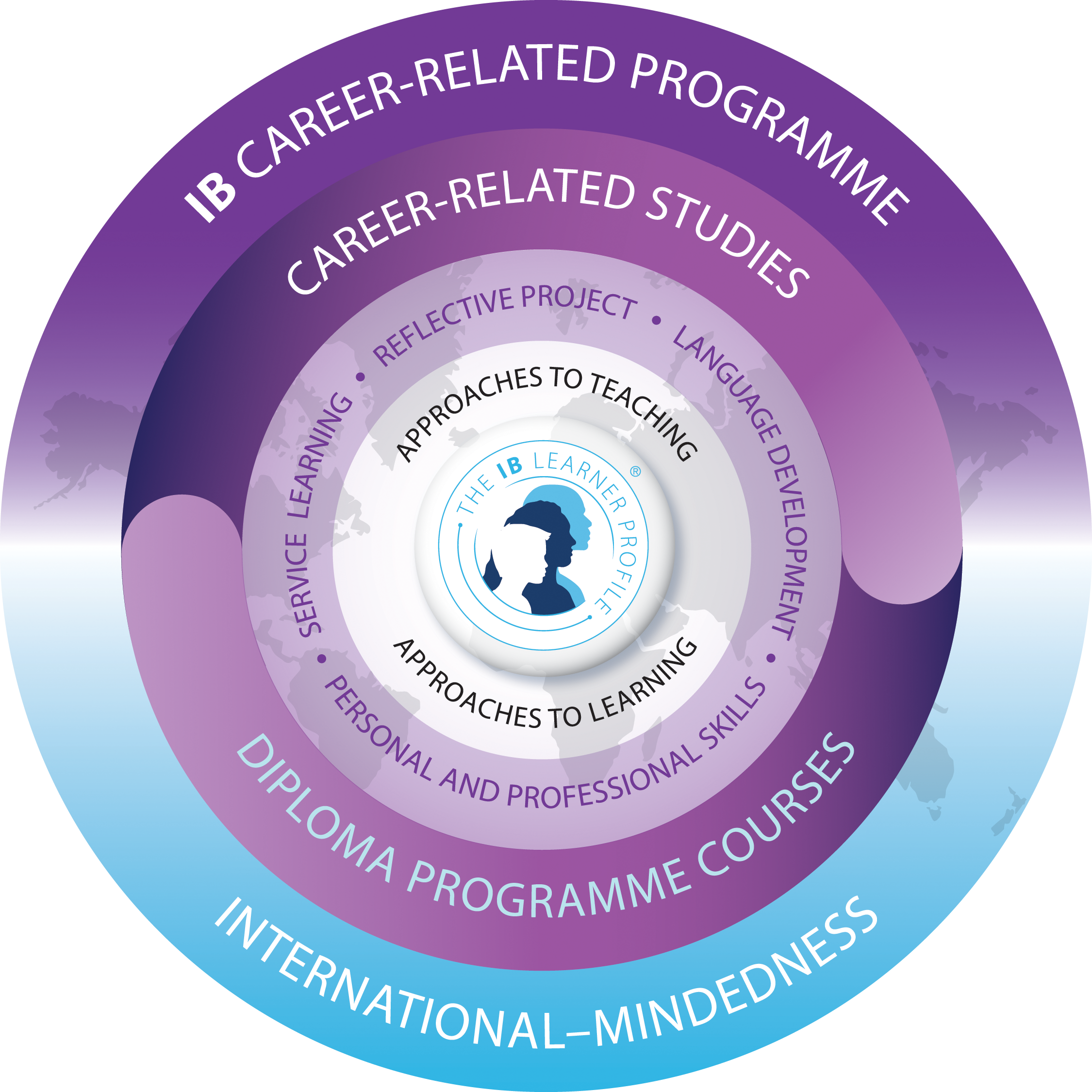 IBCP Core Elements
Personal and Professional Skills
Personal and professional skills is designed for students to develop attitudes, skills and strategies to be applied to personal and professional situations and contexts now and in the future. 
In this course the emphasis is on skills development for the workplace, as these are transferable and can be applied in a range of situations. 
Language Development
Language development ensures that all CP students have access to a second language programme that will assist and further their understanding of the wider world. The ability to communicate in more than one language is essential to the IB's concept of an international education. 
Language development encourages students to improve their proficiency in a language other than their best language. 
 
Reflective Project
The reflective project is an in-depth body of work produced over an extended period of time and submitted towards the end of the CP. Through a reflective project, students identify, analyze, critically discuss and evaluate an ethical issue arising from their career-related studies. 
The reflective project is intended to promote high-level research, writing and extended communication skills, intellectual discovery and creativity. 
Service Learning
Service learning is the development and application of knowledge and skills towards meeting an identified and authentic community need. 
In this research-based approach, students often undertake service initiatives related to topics studied previously in their academic disciplines, and apply their personal and social skills in real-life situations involving decision-making, problem-solving, initiative, responsibility and accountability for their actions. 
 
IBDP and IBCP Assessments & Evaluations
The IB assesses student work as direct evidence of achievement against the stated goals of the CP and DP courses. In addition to academic skills, CP and DP assessment encourages an international outlook and intercultural skills, wherever appropriate. The IBCP and IBDP also employs both internal and external assessments. 
Teachers will assess every student's work which can include projects, independent research, analysis, writing, and so on. Teachers will offer guidance, as appropriate, but internal assessments are still marked externally by the IB. Teacher assessments happen in most courses, and they include:
Oral work in languages
Laboratory work in the sciences
Investigations in mathematics
Artistic performances (if relevant to course)
Fieldwork (if relevant to course) 
Examinations form the basis of assessment for most courses because of their high levels of objectivity and reliability. They include:
Essays
Structured problems
Data-response questions
Text-response questions
Case-study questions
Multiple-choice questions
IBDP and IBCP students at SIS will take their final examinations at the end of Year 2 during the October/November examinations. As required by IB, SIS students will take the same exam papers as the rest of the world which will be marked by the same external marking team worldwide. 
IBDP Grading System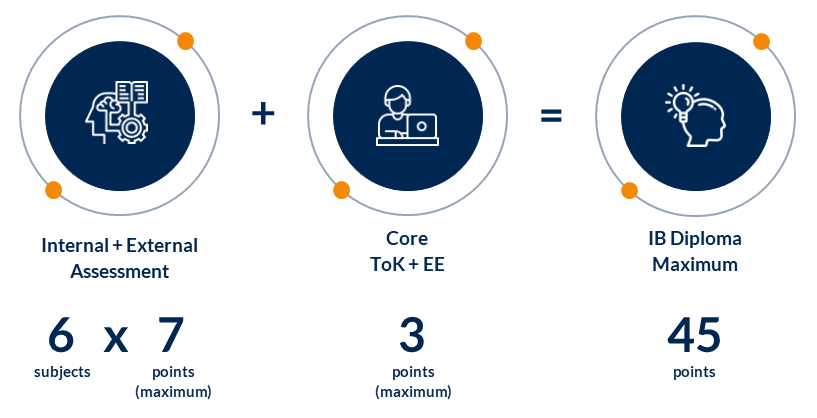 Beyond IBDP and IBCP
The IBDP and IBCP enables students to develop strong intellectual and interpersonal skills. Their focus in and engagement with the DP and CP go beyond preparing for exams. Throughout the DP and CP, they develop skills which universities and employers want such as abilities for research and reflection, communication and collaboration, persuasion and presentation, discussion and debate, and much more. When time comes for them to consider their career pathways and making university choices, SIS's IBDP/CP coordinator and guidance teachers are available to provide the guidance and support they need. Often, SIS's IBDP and IBCP students are quite certain about what they want to pursue in higher studies or career/profession as they have honed the skills for independent research, reflection, analysis, and decision making.