#PeopleofSIS - Meet Marie-Josée Talbot-Provost & Martin Pagé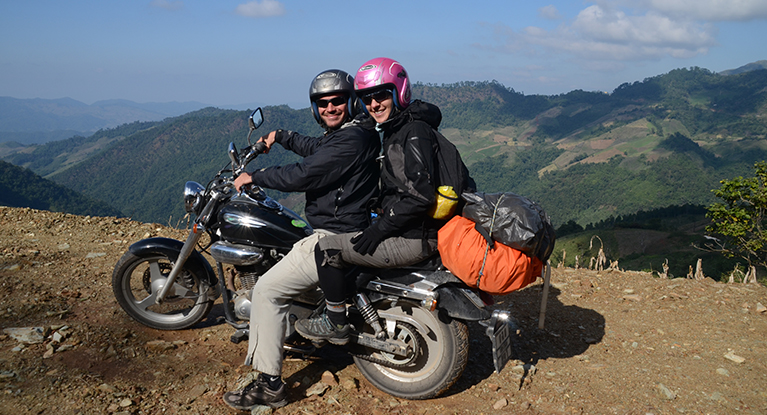 For this series of #PeopleofSIS, we get up close and personal with Mme Talbot-Provost & Mr Pagé who have been with Sunway International School since 2011.
What brought you to Malaysia?
My husband and I were backpacking in South-East Asia a few years ago and fell in love with this part of the world.  We always wanted to work abroad.  So, when the opportunity arose in 2011 and we got an offer here in Malaysia, we couldn't resist.  At that time we didn't know a lot about this country beside its location, nonetheless, we accepted the job and so far, we have been very happy with that decision.
 
What do you like and dislike about living here?
We like that Malaysians are so friendly, we enjoy the mix of cultures and languages, the delicious food variety, the travelling opportunities, the beautiful islands/beaches, mountains, and rice paddies. We love going on road trips in the countryside by motorbike, the crystal clear diving experiences, the weather, our work, and the friends we have made here.

We really appreciate the laid back/stress-free attitude of people living in tropical countries, but we sometimes find ourselves in situations where things are not moving as quickly as we would like them to. 
 
Name three typical weekend activities that you enjoy. 
On the weekend, we love doing outdoor activities and escaping the city on a motorcycle road trip to discover new areas.  I like to go to yoga classes and Martin likes to play Ultimate Frisbee.  We also like to go out for breakfast or for dinner with our friends.  On a typical weekend, you might also find us reading by the pool or getting a relaxing massage.
 
What is your favourite holiday destination in Malaysia or in the region? Why? 
Our favourite trip so far in Malaysia is one we did with some of our colleagues/friends in Borneo.   We visited the Gunung  Mulu Cave, followed by a trek on the Head Hunter trail, and the Pinnacles. We also stayed in a long house for a few nights. We ended our trip with some diving in the breathtaking Semporna Archipelago and around the famous Sipadan Island.  

We also like to go to Langkawi.  We have been there about 30 times!!  We like to relax on the beach, explore the island on a motorbike, see the waterfalls, hike, have breakfast at the Red Tomato Restaurant, and have a foot massage on the Pantai Cenang main strip.
 
Describe a memorable eating experience you have had here.
My husband and I celebrated our wedding anniversary at Marinis 57 where we had an amazing view of the Petronas Towers and the KL Tower; the scenery was incredible.  Otherwise, we enjoy taking visitors to enjoy the Malaysian street food on Jalan Alor and we also love North Indian food.
 
What do you miss most about your home country?
Call me crazy, but I miss the Canadian weather most of all. Not that I don't enjoy the eternal summers of Malaysia, too. But I particularly miss the Canadian spring and the fall (not so much the winter), when you have the opportunity to throw on a pair of jeans, a plaid, and even a cardigan! 
Meet more teachers here: Meet KL Campus Teachers